Surface pattern designer for baby and child
Who I am ?
I am a textile designer and illustrator in Lyon, I create unique designs collections, creative, modern and colorful for baby products and children in the areas of home, fashion and publishing.
Work in all these areas helped me over the years to acquire different knowledge that nourish me and continually energize my work.
From my childhood I still have the urge to play and build new images, to invent and explore unknown territories. So I create, I illustrates, and I imagine drawings and rich and varied illustrations. I like working large flat areas of color paper cut but also how to work conscientiously in a range of soft and contemporary colors. The common thread is the color of passion and my tireless curiosity. Thus I find joy and pleasure in a day's work and my artistic world of textile designer and illustrator is constantly evolving.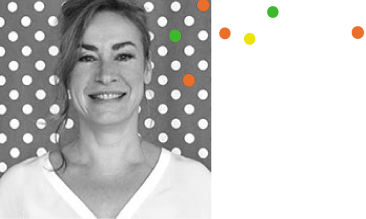 My approach is sensitive and professional.
My little world is rich in color, and is available in areas as diverse as bed linen, wallpaper, dishes, baby items, arts and crafts, games, stationery, books, gift wrap , stickers, carpets etc…
My collections are characterized by their graphic quality and flawless execution. The designs are exclusive and sold with their files.